I was one of those people who were afraid to dream big.
I am sure this is a feeling that my fellow readers share with from time to time (if not all the time). Born in a small town in a developing country did funny things to my confidence and self esteem when I was growing up. It seems that life conveniently places roadblocks and detours along the path of my dreams. When I was a toddler, I wanted to be a fighter jet pilot. Only to realise that we don't even make our own airplanes! When I was in high school, I like to doodle and draw comics on the pages of my notebooks. Fellow students love them till my home room teacher found out about my secret doodling time one day. He tore up my book in front of everyone and that killed my comic artist dream instantly. Despite that, my dream to be a creative was too big to ignore and I insisted on doing arts and design after I graduated. Even then, the product of my upbringing still defeats me every now and then. Whenever I see great works by fellow artists and designers, I just felt deflated and empty. I thought that I'd never produce works of such caliber ever. Diligence and persistence did pay off at the end of my degree, I completed my degree with a distinction and found a job immediately with one of the local studios in Melbourne ... only to be laid off after 2 weeks because there weren't enough work around. I moved to Sydney with whatever money I have left, still feeling that the dream was all but over. The one time that I picked up all my courage and knock from door to door for a job opportunity, it paid off. I got an internship at a design studio and that's the beginning of my dreams. I did my Masters and won the top award for the student category at the Australian Design Awards (now Good Design Australia) and the year after, the industry category. This gave me the confidence that I have the tools I need to be good at this profession.
Fast forward 10 years later, I am still doing design as a living but now it's spread across 3 jobs! Product designing, teaching design and most recently, photography. Last year I came across a stunning fashion photograph on Facebook that just left me speechless. The background was very eerily familiar with something in my childhood. As usual, the people on Facebook are notorious when it comes to acknowledging or crediting works. Nevertheless, I searched furiously on the internet for a lead or clues to the creator of the photo. I desperately want to see the rest of the work that I dream (and hope) of doing one day. When I finally found the photographer in question, I remembered sitting there and feeling as if a heavy burden had been lifted. I feel free after all these years of toiling and trying to make sense of what I do (when no one else in my family and immediate social circle does it).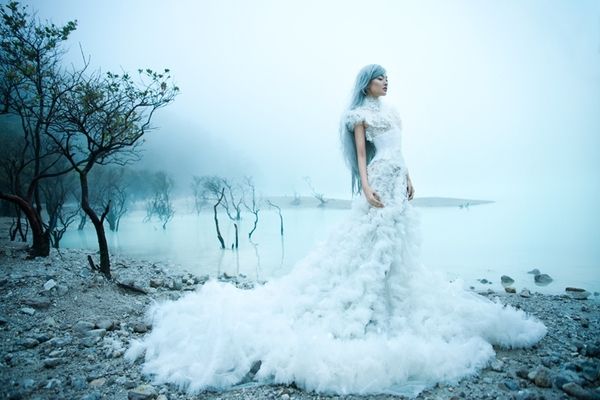 Nicoline's web page here:
www.nicolinepatricia.com/
The photographer is Nicoline Patricia Malina. She's a fellow Indonesian who dreamed big and found huge success on the local and international stage. The photo was taken in Kawah Putih near my hometown of Bandung, Indonesia. The grass isn't greener on the other side, it has always been lush green in my own hometown. It's just no one is brave enough to show it off. Gone are the regrets and doubts of my childhood years. Proof that anyone with a dream big enough can make it no matter where they come from. Whilst I am doing nowhere near what she does, I have found my peace and my inner fire to stoke. In the past few shoots, I have always consciously set that goal to be where she is now (even though it's a vastly different genre). I always try to outdo my previous work and get all the feedback I can to make them better. I can honestly say it's very humbling and touching to hear the kind words from photographers and creatives alike about my work. Especially photographers that I look up to before! It validates what I do and I feel that I am walking one step closer to that dream.
"The future belongs to those who believe in the beauty of their dreams." – Eleanor Roosevelt